'YOUR' MANAGEMENT INFORMATION ON 'YOUR' DESKTOP….. THERE'S AN APP FOR THAT!
Bespoke Desktop Management Information Applications (BDMI Apps)
We are pleased to be able to offer a wide range of Bespoke Desktop Management Information Applications (BDMI Apps) that sit on your desktop and provide up to the minute real time business information about 'your' business.
The possibilities are endless, here are a few examples:
How many purchases have been made today on your website?
What is the total value of sales you have made today, this week, this month, this quarter?
How many employees have taken time off sick this month?
How many total days of sickness have there been this month / last month / this quarter?
What's the current value of the inventory you hold?
Who is the top salesperson this week?
Show me a graph of all salespersons performance this month
A company phonebook, enter part of a surname, click search, all matching staff are displayed in a pop out window, together with a photo, phone numbers and e-mail address, directly on the desktop.
Here we show an App in both its closed position on the desktop, and with a graph being displayed in a pop out window.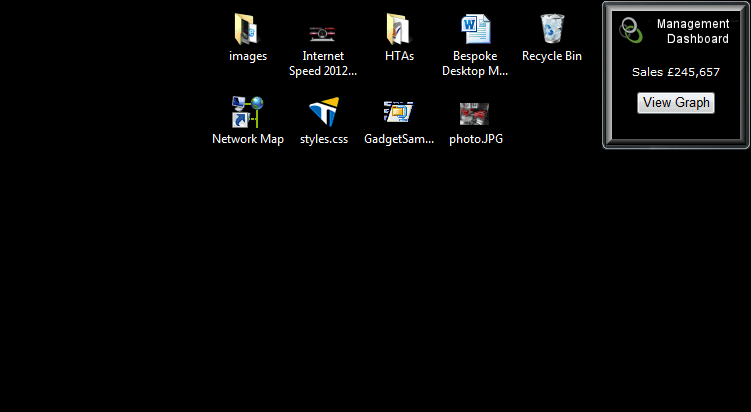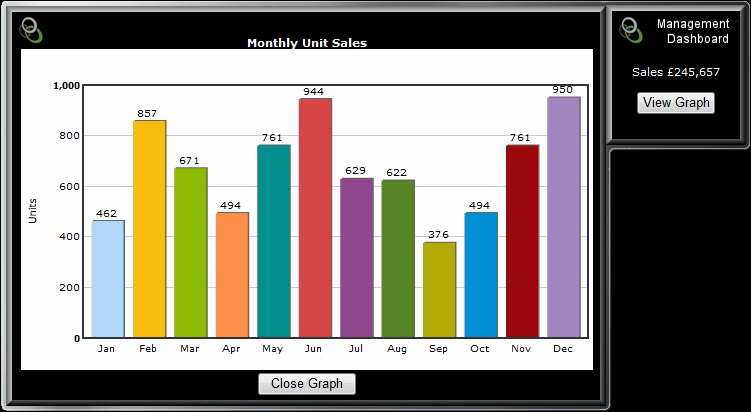 This is an example of an App taking up minimal screen space while displaying summary information, and then providing detailed information at the click of a button.
Where does this information come from?
This is information that would typically live in your existing information systems; we can extract information from a diverse combination of locations and combine it on your desktop in real time to provide real answers.
Typical locations of data:
Data stored in databases, for example Access, MySQL, Microsoft SQL Server
Data stored in spread sheets, Excel files for example
Data held by your website back-end database
How is this information displayed?
We can build bespoke apps that fit your needs, we normally suggest small apps that provide summary information at a glance, some clients then like to be able to click on the app to display a larger window with more detailed information, we design the App the way you need it. You can decide on the size and style of the app, we can brand it and colour it to suit your business.
How often can the information be updated?
The frequency of updates normally depends on how fast the data is changing, as an example: for sickness monitoring we would suggest that an update once or twice a day would be sufficient, whereas monitoring of a live sales situation may require data updates much more frequently, perhaps once a minute? We can discuss your update frequency requirements and build your App to undertake automatic updates at that frequency.
What software is required?
You probably have all the software you require already, if you have one of the following operating systems our Apps will run on them just fine. Windows 7, Windows Vista, Windows Server 8 Beta, Windows 8 Consumer Preview or Windows Server 2008.
How difficult is it to install a bespoke desktop application?
We provide a single file that you simply double click to install.
Where can I position my bespoke desktop application?
If you are using Windows Vista then the applications can only be positioned at the edge of your screen, however if you are using Windows 7 or later then you can position the bespoke desktop applications anywhere on your desktop.
How do we request you to build an App for us?
Please see our
contact us
page and either telephone or send us a short message and we will contact you to discuss your requirements.