PROJECTS, COMMENTS AND TESTIMONIALS FROM SOME OF OUR CLIENTS
Lucy Stephenson, Project Manager, Advice North Lincolnshire

Bespoke Software Development designed and delivered a bespoke system that enabled our partner organisations to really strengthen their client contact recording. The system has ensured our organisations are able to effectively monitor and evidence their outcomes and outputs.
Dennis at Bespoke Software Development was fantastic from the beginning and I can only commend him for his endless patience and ability to communicate technical information in a way that could be understood by those with limited Microsoft Access knowledge.
Dennis ensured he fully understood our requirements and worked with us to incorporate elements we hadn't even considered delivering the system on time and within budget. I highly recommend Bespoke Software Development and look forward to working with them on all our future software development needs.
Hugo Kidston, Global Head of Communications, Allianz Global Corporate & Specialty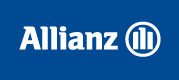 We brought in Dennis from Bespoke Software Development to create a media analysis database at short notice and on a tight budget.
We are very pleased with the end result. I found Dennis a good listener, easy to work with and responsive to our needs.
He designed a low cost pragmatic solution which fits our requirements effectively and delivered it on time and on budget. I would happily use Bespoke Software Development on other projects.
David Graves, Office Manager/Quality Manager, Rail Professional Development

I could present details of how Dennis (
who are we?
) from Bespoke Software Development listened to our requests, built two quite different databases (one of which is for undertaking the tracking of people that we have trained and the other database performs the tracking of each of our consultants project work activities, expenses etc. against our clients projects) but instead I would prefer to say this:
Dennis is an extremely good listener, he always looks for the simple resolutions to complex problems. I highly recommend Bespoke Software Development to any company wishing to develop or create business software systems. It's not all computer/database coding talk with Dennis, he uses normal vocabulary that we can all comprehend.
RPD Assure - Online Competence Assessment System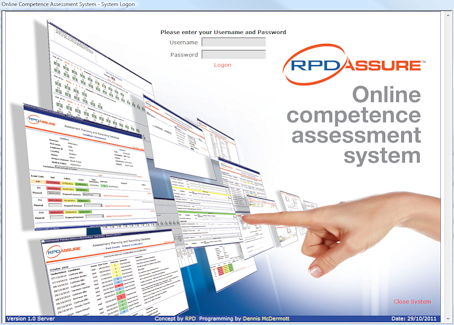 After the success of the databases mentioned above, we decided to approach Dennis to discuss the development of an online competence assessment system. The requirements for the system are very strict in as much as its intended use is in the railway industry which is very exacting.
Without going into all the details of the system I would just like to point out a few of the features that were built in for us,
The system is run from an executable file on our client's desktops.

The system is internet based but only accessible from the executable mentioned above.

The system detects if anyone tries to access it by any other method and blocks entry.

The system has been well received by the railway industry and is being continually enhanced as new users come on board and find new uses for it.

The system runs on a dedicated server which Bespoke Software Development were involved in selecting, advising us all the way.

The system has been built in a modular fashion allowing us to offer it to our clients in many configurations.

Bespoke Software Development also provides online support and maintenance and always responds in a timely manner.


Owing to rapid growth of our photo collection, the existing database we were using was showing signs of not being able to cope.
We contacted Bespoke Software Development and dealt with Dennis, after initial discussions Dennis had grasped a full understanding of our issues and set about proposing a solution which was to convert our database to MS SQL, after this conversion we now have a much faster, extremely stable system.
Dennis also provided us with the pertinent information to ensure we were able to undertake minor changes to the system in-house as we used to in our old system.
To say we were pleasantly surprised with the seamless migration from our old system to the new one is an understatement. Previous development organisations had left us cautious as we had been subjected to time consuming and costly errors along the way, not so with Bespoke Software Development.
Dennis asked many relevant questions and adopted a 'right-first-time approach' which was evident in the smooth transition of our system.
So, a big thank-you to Bespoke Software Development, and a special mention to Dennis, you will be our first point of contact when we next require software development!
Guy Davis, Managing Director, Hiltongrove Business Space Ltd.

Hiltongrove Business Space is a commercial property company first established in 1997. A large part of our success has been due to the introduction and maintaining of a bespoke property management database system. Deutsche Bank - one of our key lenders with over £8.13m of loans in the last two years alone - described the system as "..the best we have ever seen..".
This has been down to the exemplary work and dedication of Dennis and his team.
Service. Quality. Price.
You rarely get any two of the above with any organisation, but with Bespoke Software Development you get all three.

Following relocation to a new office, we invested in new computer equipment and approached three local companies to quote for networking our computers together, we also had an aging database that was not really providing us what we needed and was starting to become unreliable.
The first two companies only seemed to want to sell us expensive servers for the network, one of them said they could write us a new database but the cost was excessive, I guess its a case of these people being salesmen rather than software developers.
We came across Dennis after finding his website via a Google search; we arranged a visit for a quote for the networking and database. After only being with us for a few minutes Dennis confirmed that for our requirements we did not really need a file server at all, we only had two computers and needed to pass a few files back and forth, he told us the network could be setup easily and quickly at a fraction of the previously quoted costs.
We demonstrated our existing database to Dennis, he could see straight away where this system was lacking and after asking many questions and taking notes Dennis went off to write what he called a 'system requirements specification' this document showed clearly what Dennis was proposing to develop, we could see he had really grasped what we needed and had come up with an excellent proposal tailored exactly to our needs. We agreed a very reasonably price and Dennis returned a few weeks later to install the database for us to test, everything went smoothly, the database worked exactly as Dennis had said it would in his document, we knew at this point the value of hiring a true professional.
When we decided it was really time we should have a website, we called Dennis, although it seemed like a mammoth task to us, Dennis broke it down into manageable chunks, after analysing our situation, Dennis explained many things to us in a clear manner, he talked about not only how our potential clients would see our website, but also about what the search engines would see from their prospective, we worked together on the content, and after having the website in place for a while, and being very pleased with the response, we can honestly say you can see the years of experience that Dennis has shine through.
From a people perspective, I would say Dennis is very personable, asks the right questions, listens carefully to your responses, and delivers exactly what he proposes, on time and on budget.
We are very pleased with the service we have received from Dennis, and would have no qualms about recommending his services wholeheartedly; we would have no objection to being contacted for further reference.
Steve Brierley QA / H&S Manager, Metal Cleaning UK & Standish Metal Treatment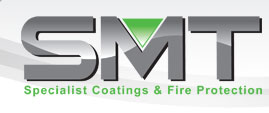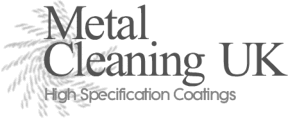 When I originally made contact with Dennis is was to update an old database system we had been running that was using Microsoft Access 97, this was a precursor to instructing Dennis to create a complete new database system for us in Access 2003.
Dennis developed a fresh new system for us that was much faster than the old system and did exactly what we had requested. Although Dennis is obviously an expert in his own field, we were very impressed with the way he grasped our methods and processes, it is not easy to explain shot blasting and painting operations with such things as dry film thickness formulas and the relationships between coating application, drying times and the effects of climatic conditions to someone who is not in our industry, but Dennis picked it all up first time. Dennis produced a document that detailed exactly how his system would cater for all our processes, once we had signed off this document Dennis set about undertaking the development.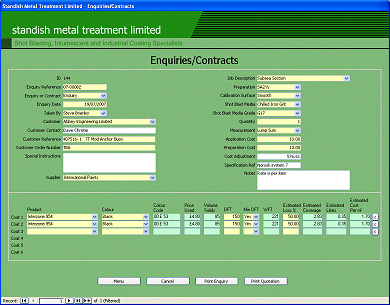 Dennis included validation programming to ensure the system would only allow good clean data to be stored, if a user tries to enter invalid data the system will display a warning informing the user which item of data has not been completed correctly, very helpful. Dennis also incorporated little tooltips that popup when you hover your mouse over items of data showing summary and calculation information, it's this level of attention to detail that sets Dennis's systems apart from others we have seen, everybody at both Metal Cleaning UK and Standish Metal Treatment are exceedingly pleased with the way the system operates so far.
I say so far because I am continually asking Dennis to incorporate enhancements to the system, which he always undertakes in a professional manner, within timescales and exactly to our detailed requirements.
I am happy if you would like to contact me personally for a reference, just contact Dennis and he will provide my contact details.
Jawad Saleem, Business Development Manager, Regent Carriage Services Ltd.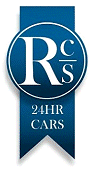 Regent Carriage Services Ltd is a successful mini cab company operating in South Kensington. During December 2006 we increased our business three fold and the old processes of manually writing the logging of jobs, dispatching, reporting and invoicing was getting out of control and needed a serious overhaul. There were so many readymade database systems on the market; however none of them were suited to all of our needs and requirements, so we decided we needed a bespoke solution.
This can be a daunting task at the best of times; however we were very lucky to have chosen Dennis to program and enhance our database system. From the very first conversation we had with Dennis regarding our needs we were confident that he had grasped an excellent understanding of our requirements for the database. His understanding of our business needs through his questioning lead to an excellent customised database.
Since we have been working with Dennis we have found him to be thoroughly professional. His work output is of an excellent quality, spot on; on every occasion. His helpful suggestions on enhancements to our database have produced a product that we are absolutely delighted with. To anyone looking for programmer I could not recommend Dennis highly enough.
Kevin Adams, Almond Art
I originally found Dennis after undertaking a search on Google; I must admit that at first I was a little dubious about contacting a developer I was not acquainted with to undertake some updating to our aging Access database.
As it turned out, Dennis was an extremely good discovery. Firstly he undertook the conversion of our database from Access 97 to Access 2003; after which he went on to make some well needed improvements to our forms and layouts etc. I found Dennis to be very professional, friendly and extremely efficient. He provided first class feedback and made sure I was informed at all times of his progress and also any costs incurred so that did not receive any surprises at the end of the development. On the few occasions that he came across problems he demonstrated the value of hiring a highly experienced developer and resolved then quickly and without any fuss.
Our database had been in place for almost nine years until I contacted Dennis to upgrade it, with the improvements Dennis made hopefully there are a good many years use left in it yet. If I have any need for further enhancements or improvements to our database, I would definitely not hesitate to contact Dennis again and I am happy to recommend his professional services to anyone requiring first class service for a very reasonable cost.